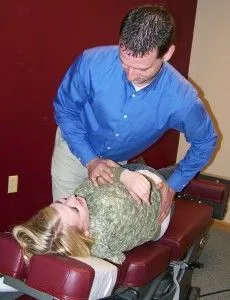 A subluxation, also known as a restriction, is a joint that has lost some of its normal range of motion which results in altered biomechanical, neurological, and physiological function. "Stuck" joints result in altered function that manifest themselves as pain, muscle weakness, or decreased range of motion. Chiropractic safely corrects these restrictions to restore full function.

The term "subluxation" can be confusing because the medical term directly translated means dislocation or partially dislocated. For the sake of simplicity, many chiropractors say that the bone is "out of place," which gives the incorrect impression that chiropractors are actually moving bones. Chiropractic Adjustment affects the range of motion within a joint and the function of the joint, not the actual position of the bone.

Price Chiropractic focuses on soft tissue and muscle stretching so that tissues are working properly to support joint adjustments.